Regular price
Sale price
$23.00 USD
Unit price
per
Sale
Sold out
MADE FOR DOGS AND CATS WITH SENSITIVE STOMACHS/DIGESTIVE TRACKS, ITCHY, SCRATCHY SKIN, PAW LICKING, HEAD SHAKING/EAR ISSUES AND/OR ALLERGY ISSUES.
Tired of the same old pet probiotics on the market? The messy powders that your dogs and cats refuse to eat? Well, look no further! Introducing Mia's Paws Daily Probiotic Blend with Prebiotics soft chews!! New customized formula suited for both dogs and cats. Made using a special probiotic blend including Bacillus coagulans, Bacillus subtilis and Bacillus licheniformis, these Healthy Tasty Supplements are your #1 choice for maintaining the health and well-being of your precious pets.
ALL NATURAL INGREDIENT, NO ARTIFICIAL COLOURS OR FLAVOURS, LEGUME-FREE, CHICKEN-FREE, GLUTEN-FREE; these incredible probiotic soft chews come in a delicious Salmon flavour.
Restores normal intestinal flora during antibiotic therapy

Increases immune response

Inhibits the growth of pathogenic "bad" bacteria

Reduction of ammonia and other toxic compounds found in your pets system

Treatment of allergy symptoms

Aids in production of Vitamin B and Folic Acid

Modification of the structure and functions of your pets intestinal lining, improving auto production of normal "good" bacteria

Aids in prevention of diarrhea
Mia's Paws Daily Probiotic Blend with Prebiotics contains Bacillus coagulans, Bacillus subtilis and Bacillus licheniformis, these high tolerant strains of probiotics is what makes our probiotics so unique! Traditional probiotics, such as Lactobacillus and Bifidbacterium are great strains of probiotics, but their survival is generally low. That is why we, here at Mia's Paws, have invested so much time formulating the ultimate supplement for your pet!
Bacillus probiotics are "spore-forming probiotic microorganisms" and can withstand high temperatures making them the perfect probiotic strain. They will survive the baking process, leaving your pet with the highest quality probiotic on the market. The survival and stability rate of Bacillus are considerably better when compared to other probiotic options as a result of their spore-forming abilities! Not only are these organisms heat tolerant, they can survive the harsh environments in the stomach. Their thick outer cell wall protects them from harsh stomach acids thereby allowing them to enter the intestinal track and do their job!
Bacillus also produce various enzymes to aid in the digestion of proteins and carbohydrates, thereby promoting proper metabolism, improving the intestinal health of the colon, and reducing toxic metabolites. The normal gut flora within the intestinal tract can significantly influence your pet's physical and psychological health. Mia's Paws Daily Probiotic Blend with Prebiotics help promote a healthy balance of good bacteria which in turn can keep the immune system strong and support digestive function.
The environment these probiotic strains create makes it impossible for harmful pathogens to survive but the perfect environment for promoting the growth of good bacteria in the gut! Maintaining normal gut flora or Good Bacteria in your pet is vital to their overall health. Mia's Paws Daily Probiotic Blend with Prebiotics soft chews can make it easy to do so!
Our formula includes a powerful prebiotic, inulin, which nourishes and works in harmony with the probiotics to help support your pets gut and encourage good bacteria to flourish.
Nothing but the best for your fur babies!!! Safe for pets of all sizes and ages. Our Canadian manufacturers facility is GMP compliant and Level 3 SQF certified; Every batch of Mia's Paws Daily Probiotic Blend with Prebiotics is tested by an independent lab to guarantee quality.
Don't settle for less, Mia's Paws Daily Probiotic Blend with Prebiotics is your #1 choice for pet health.
Canadian Products. Canadian Made.
Love and treat your pets like family.
INGREDIENTS:
Salmon Soft Chew Probiotic with Prebiotics:
Dark Buckwheat Flour, Water, Glycerin, Blackstrap Molasses, Brewer's Yeast, Salmon Meal, Fish Liquid, Kelp Meal, Apple Fibre, Pumpkin Puree, Vegetable Oil, Naturox/Tordry, Mold-X/Previon, Rosemary Powder, Citric Acid, Fiberrific (Inulin), Dried Fermented Bacillus coagulans, Dried Fermented Bacillus subtilis, Dried Fermented Bacillus licheniformis.
Guaranteed Analysis per 100 g:
Calories: 303 g
Crude Protein: 9.6 g
Crude Fat: 3.3 g
Crude Fibre: 2.18 g
Carbohydrates: 58.9 g
Moisture: 24.1 g
Ash: 4.2 g
Probiotic Count per 2 Soft Chews:
Bacillus coagulans*              400,000,000 CFUs
Bacillus subtilis*                    300,000,000 CFUs
Bacillus licheniformis*         300,000,000 CFUs
*Not recognized as an essential nutrient. Consult a veterinarian if you have health questions relating to supplements for your pet.
General Feeding Instructions (Give before or after meals to reduce gastrointestinal upset. Best results if given throughout the day):
0-20 lbs:         2-3 Soft Chews
21-50 lbs:       3-4 Soft Chews
51-80 lbs:       4-5 Soft Chews
81 lbs & up:   5-6 Soft Chews
*If unsure about dosing, always start off with 1-2 soft chews. Gradually increase if needed.
View full details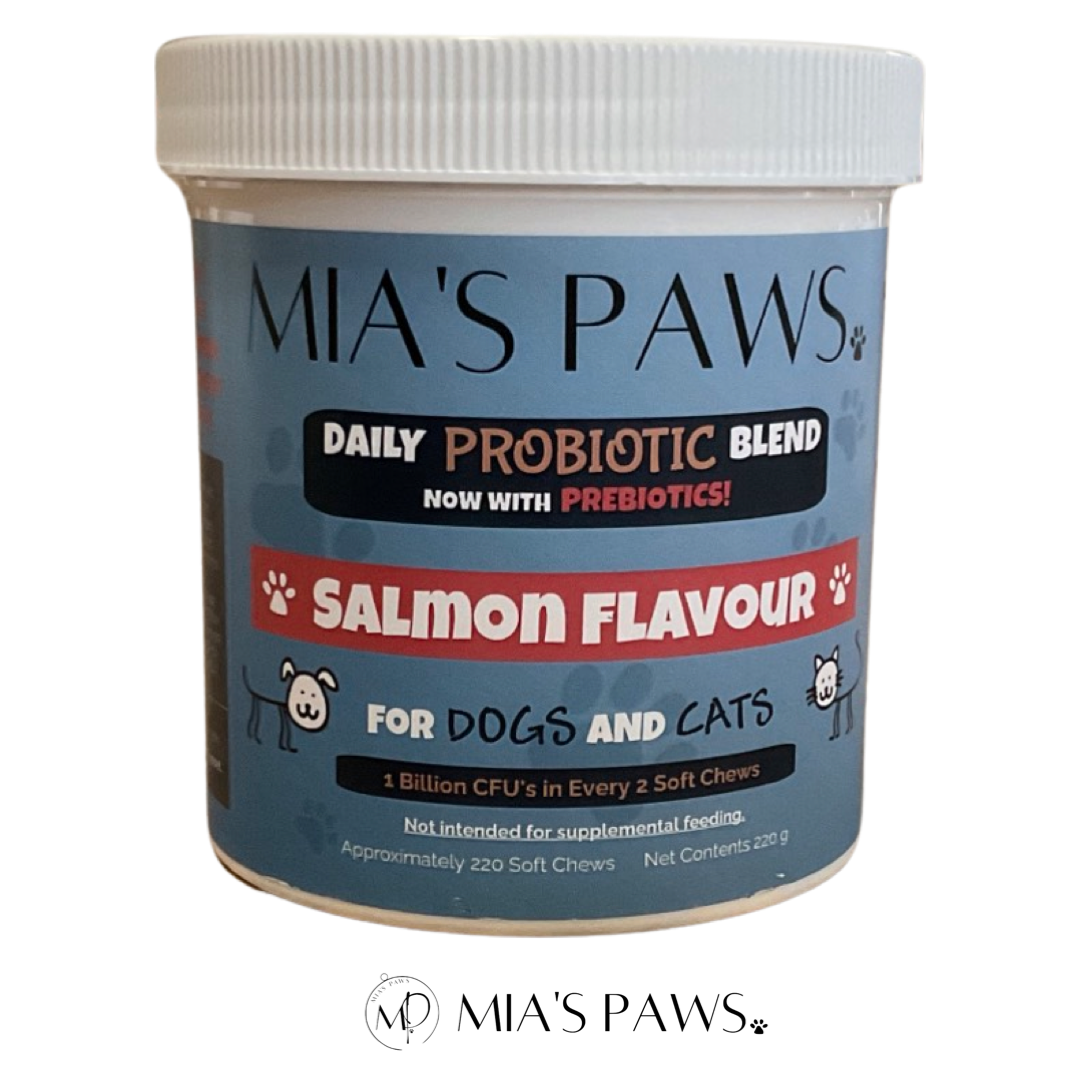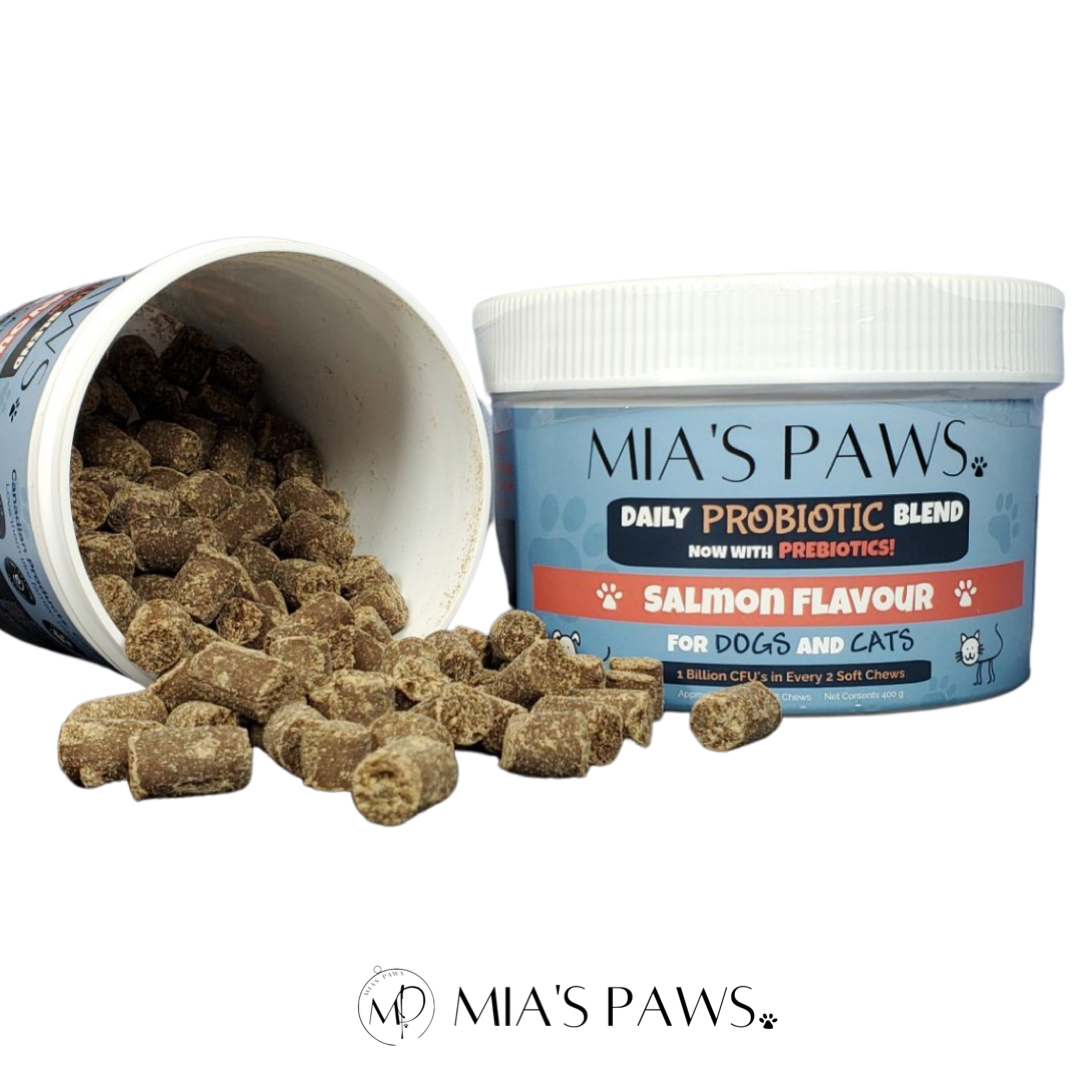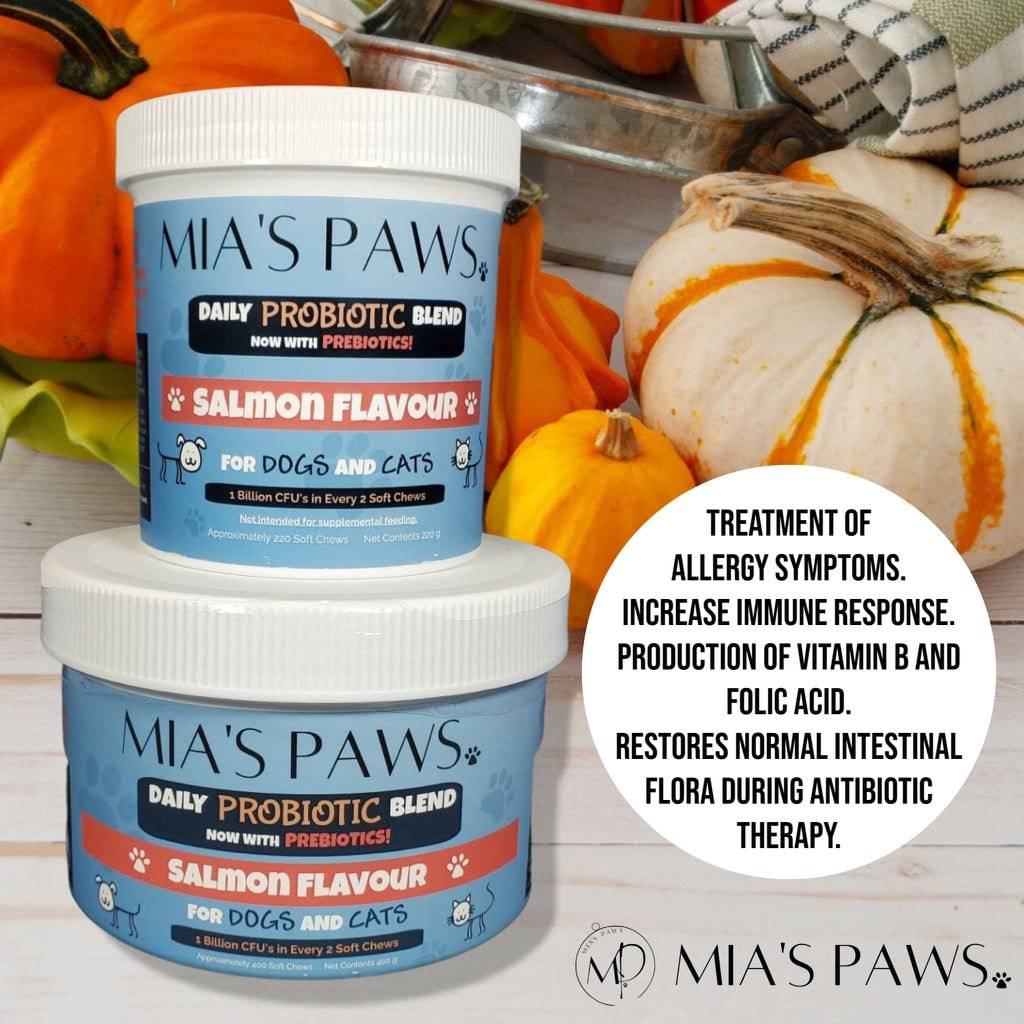 FREE SHIPPING

FREE SHIPPING in Canada on all orders over $99

Hassle-Free Exchanges

If you are not completely satisfied with your purchase please let us know within 30 days of purchase for a full refund!