Regular price
Sale price
$8.00 USD
Unit price
per
Sale
Sold out
Introducing our all-natural Fresh Mouth Biscuits for Dogs, specially crafted to keep your furry friend's breath fresh and their oral health in top shape. Packed with the goodness of fresh mint and parsley, coconut oil, and liquid chlorophyll, these biscuits offer a tasty and effective solution for a happier, healthier smile.
Key Features:
Nature's Own Ingredients: We believe that nature provides the best solutions, which is why our biscuits are made with only the finest natural ingredients. Fresh mint and parsley work in tandem with the power of coconut oil and liquid chlorophyll to combat bad breath and support dental health.

Banish Bad Breath: Say goodbye to unpleasant doggy breath! The natural combination of fresh mint and parsley acts as a potent breath freshener, neutralizing odours and leaving your pet with a minty-fresh, kissable mouth.

Promotes Dental Health: Regular chewing helps reduce plaque and tartar buildup, supporting healthy gums and teeth. The inclusion of coconut oil and liquid chlorophyll provides additional oral health benefits, making these biscuits a holistic solution for your pet's dental well-being.

Coconut Oil Goodness: Known for its anti-bacterial and anti-inflammatory properties, coconut oil aids in maintaining oral hygiene. It also adds a delectable flavour that dogs find irresistible.

Liquid Chlorophyll Boost: This natural green pigment is a powerhouse of benefits. Liquid chlorophyll helps combat bacteria and odours, while also promoting detoxification and overall well-being in your canine companion.

Delicious and Nutritious: We understand that taste matters, and our biscuits are designed to be as delicious as they are effective. The combination of these natural ingredients creates a flavour profile that dogs love, making it a delightful treat for them.

Easy to Incorporate: These biscuits are conveniently sized and can be given as a treat or integrated into your pet's daily routine. With their palatable taste, you can effortlessly support your dog's oral health without any fuss.

Diatomaceous Earth:

Food-grade diatomaceous earth, which is considered safe for consumption, is sometimes used as a detoxification agent. It is believed to help remove toxins and heavy metals from the body due to its porous structure.
Prioritize your pet's dental well-being with our all-natural Fresh Breath Biscuits. With the power of fresh mint, parsley, coconut oil, and liquid chlorophyll, you're giving your furry friend a treat that not only tastes great but also supports their oral health. Choose a natural solution that speaks to the well-being of your beloved companion. Order now and let those tails wag with confidence!
View full details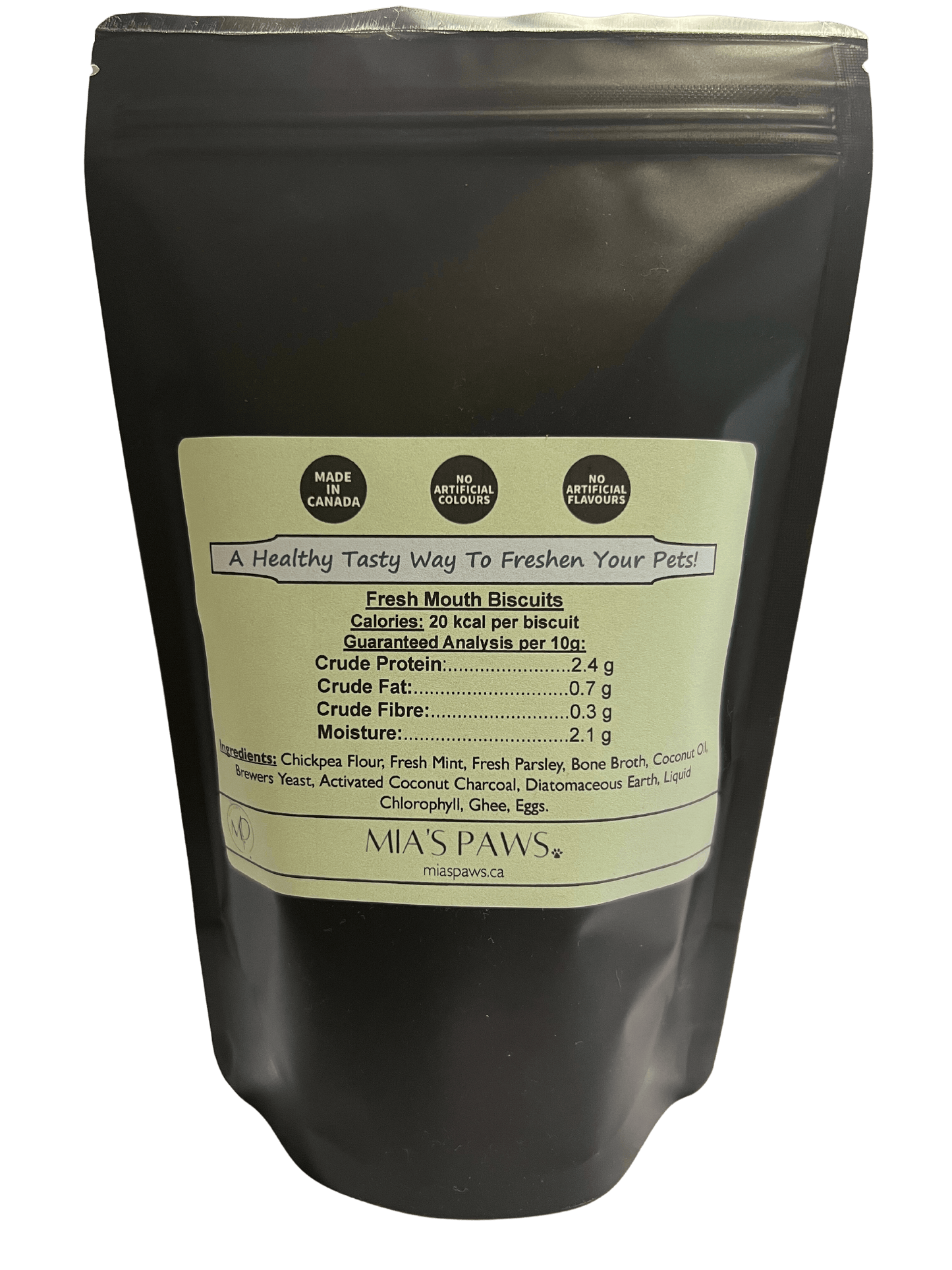 FREE SHIPPING

FREE SHIPPING in Canada on all orders over $99

Hassle-Free Exchanges

If you are not completely satisfied with your purchase please let us know within 30 days of purchase for a full refund!