Regular price
Sale price
$8.00 USD
Unit price
per
Sale
Sold out
Introducing Mia's Paws Dry Bath, natural dry shampoo for dogs and cats, the perfect solution for keeping your furry friends fresh and clean between baths. Our dry shampoo is formulated with natural ingredients such as Kaolin White Clay, carefully selected to provide a gentle and effective cleansing experience for your pets.
Key Features:
Natural Ingredients: We understand the importance of using gentle and safe ingredients on your pets. Our dry shampoo is made from a blend of natural plant-based extracts, ensuring it is free from harsh chemicals, sulphates, and artificial fragrances.

Cleansing and Deodorizing: Our dry shampoo effectively absorbs excess oils, dirt, and odours from your pet's coat, leaving them feeling clean and refreshed. It is specially formulated to neutralize unpleasant smells, making it ideal for pets that may have a tendency to develop odours between baths.

Easy to Use: Our dry shampoo is designed for convenience. Simply sprinkle a small amount onto your pet's coat, massage it in gently, and brush or comb it through. No water is required, making it a stress-free option for pets who dislike bathing or for those times when a traditional bath is not feasible.

Suitable for Dogs and Cats: Our dry shampoo is formulated to be safe and gentle for both dogs and cats, making it a versatile option for multi-pet households. It is suitable for pets of all breeds and ages, including puppies and kittens.

Skin and Coat Health: Along with cleansing and deodorizing, our dry shampoo also helps maintain the health of your pet's skin and coat. The natural ingredients nourish the skin, promote a healthy pH balance, and leave the coat looking soft, shiny, and manageable.

Environmentally Friendly: We care about the well-being of your pets and the planet. Our dry shampoo is produced with eco-friendly practices, and the packaging is recyclable. By choosing our natural dry shampoo, you are making a sustainable choice for your pets and the environment.
Maintaining your pet's hygiene is essential, and our natural dry shampoo provides a convenient and gentle way to keep them clean and fresh. With its natural ingredients and effective cleansing properties, our dry shampoo is the perfect addition to your pet care routine. Say goodbye to bath time struggles and hello to a happy, odour-free pet!
Canadian Products. Canadian Made.
Love and treat your pets like family.
Ingredients: Kaolin White Clay, Sodium Bicarbonate, Cornstarch, Real Lavender, 100% Tea Tree Essential Oil, 100% Lavender Essential Oil.
View full details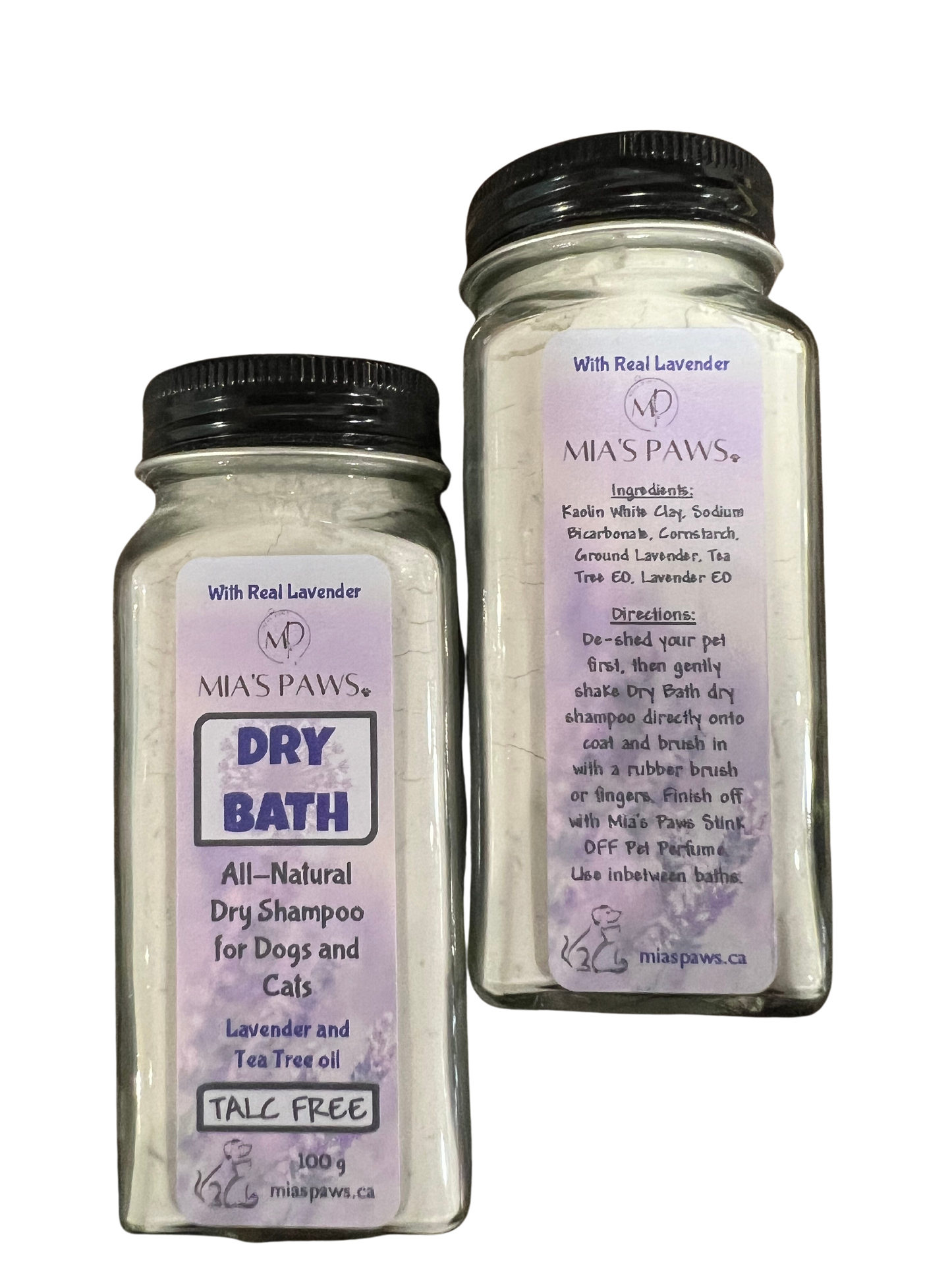 FREE SHIPPING

FREE SHIPPING in Canada on all orders over $99

Hassle-Free Exchanges

If you are not completely satisfied with your purchase please let us know within 30 days of purchase for a full refund!