Regular price
Sale price
$8.00 USD
Unit price
per
Sale
Sold out
Introducing our all-natural Calming Time Biscuits for Dogs, crafted with care to bring peace and tranquility to your furry companions. Specially formulated with a blend of real chamomile, lavender, and passion flower, these treats offer a soothing solution for pets in need of relaxation.
Key Features:
Natural Ingredients: We believe in the power of nature, which is why our treats are made with 100% natural ingredients. Real chamomile, lavender, and passion flower work harmoniously to promote a sense of calm and well-being in your pets.

Relieves Stress and Anxiety: Whether it's separation anxiety, loud noises, or travel-induced stress, these treats are designed to help your pets find their inner peace. Chamomile, known for its calming properties, is complemented by the soothing effects of lavender and passion flower to create a gentle, holistic solution.

Perfect for Dogs: This versatile formula is suitable for dogs. The dosing is flexible, ensuring that pets of various sizes and breeds can benefit from these calming treats.

No Artificial Additives: Our commitment to your pet's well-being means we never compromise on quality. These treats are free from artificial flavours, colours, and preservatives. You can trust that your pets are receiving a pure, wholesome product.

Irresistible Taste: We understand that pets can be picky eaters, which is why we've crafted these treats to be as delicious as they are calming. The natural flavours of chamomile, lavender, and passion flower are sure to be a hit with even the most discerning of taste buds.

Easy to Administer: Each treat is conveniently sized, making them a hassle-free addition to your pet's daily routine. Whether offered by hand or mixed with their food, these treats ensure a stress-free experience for both you and your furry friend.
Bring serenity back into your pet's life with our all-natural Calming Time Biscuits. With the power of chamomile, lavender, and passion flower, you can provide your beloved pets with the tranquility they deserve. Choose a natural solution that speaks to the well-being of your furry family members. Order now and let the calming begin!
View full details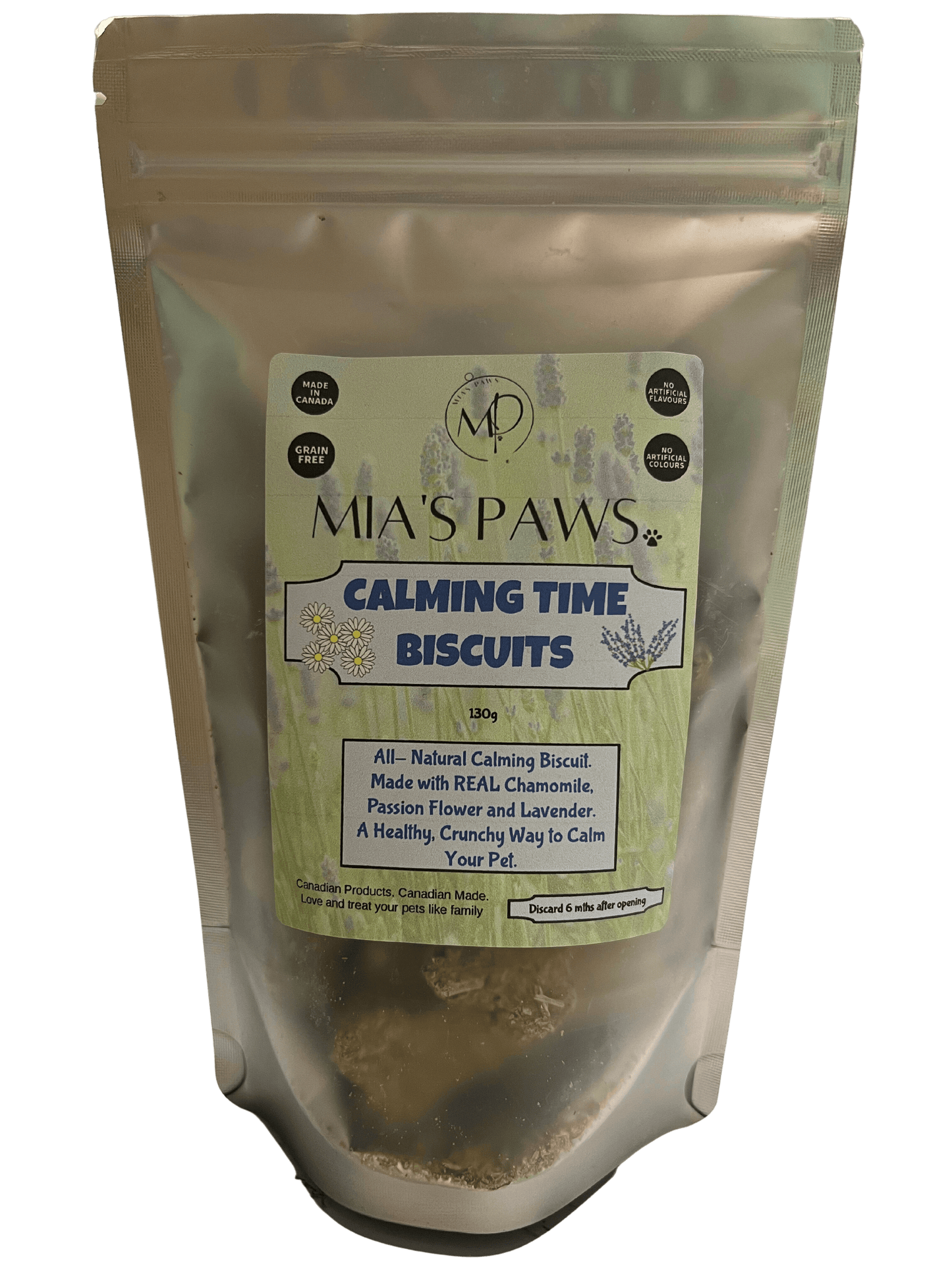 FREE SHIPPING

FREE SHIPPING in Canada on all orders over $99

Hassle-Free Exchanges

If you are not completely satisfied with your purchase please let us know within 30 days of purchase for a full refund!